Banteay Srei – The temple of women
Banteay Srei – The temple of women
The temple complex of Banteay Srei, located north of the main area of Angkor, is one of the most impressive and unique structures in the world. If at first glance the temple seems like a somewhat undersized version of the surrounding temple complexes, it is the architectural and artistic details that make it so special.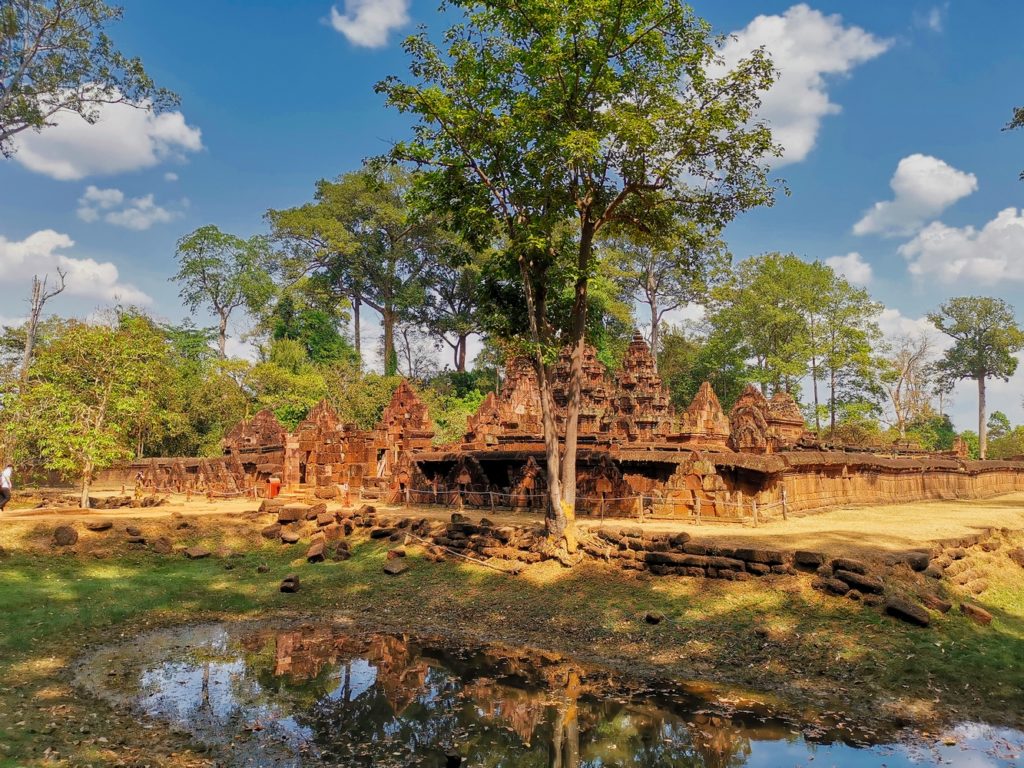 View of the inner ring with moat
Banteay Srei was built in the second half of the 10th century in honor of Shiva by the Brahmins Yajnavaraha and Vishnukumara. Originally built under the name Tribhuvanamahesvara ("Great God of the Triune World"), the present name Banteay Srei means something like "Citadel of Women" or "Citadel of Beauty"
What is exciting is that this temple complex was not a royal building like many other complexes of the Khmer Empire, but was commissioned by wealthy landowners, namely the grandsons of Harshavarman I. The temple was built by the Khmer Empire.
Even though the temple seems to be smaller than similar temples (the total distance from the eastern to the western Gopuram is only about 200 meters), it is the architectural conception and the attention to detail that make Banteay Srei so special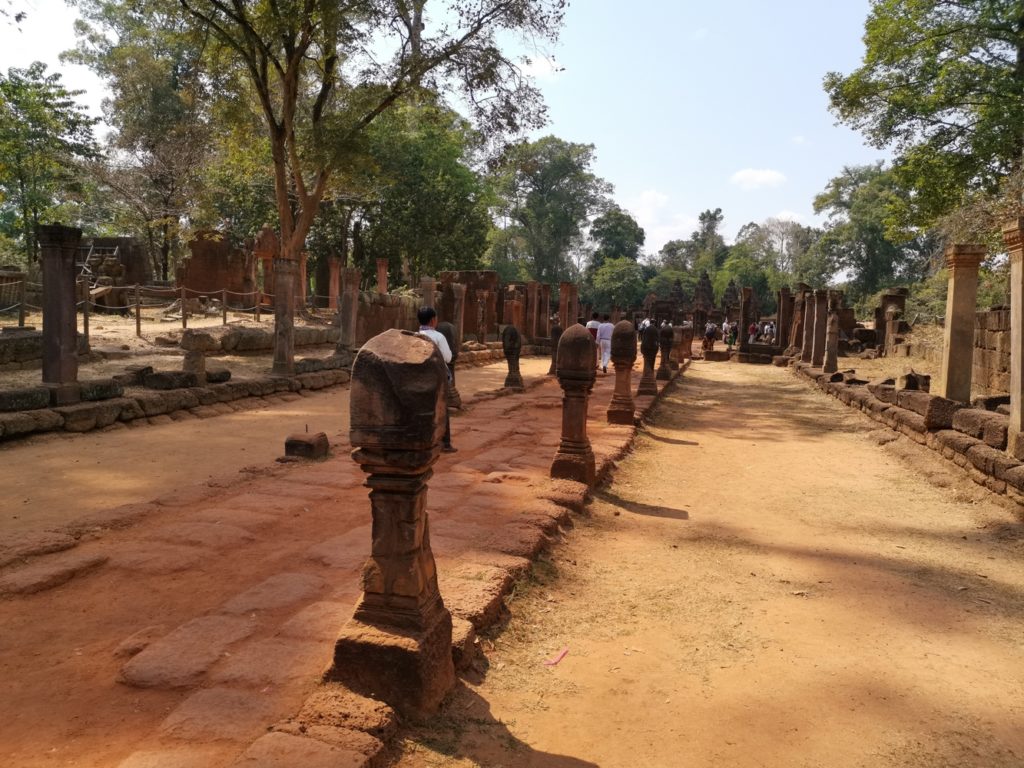 Processional Way
The temple comprises three rings of walls: researchers suspect that it was once additionally surrounded by a wooden palisade, as there is no evidence for a fourth ring of walls. From the entrance in the east towards the eastern gopuram there is a processional way lined by arcades and transverse pavilions. The inner buildings were made of very fine pink sandstone. Due to the good workability of the stone, particularly detailed ornaments and exceptionally fine relief decorations can be found in Banteay Srei.
In the center of the complex there are three temple towers, two of which are dedicated to Shiva and one to Vishnu.
That we know about this extraordinary building today is due to a coincidence. In 1914, French archaeologists, who were working in the Angkor region, discovered the temple by complete surprise: a sensational find. Banteay Srei, already badly decayed, was then further destroyed
Cambodia (at that time still part of French Indochina) was at that time under French colonial rule, which led to repeated attempts to rob the temple of its treasures and sculptures and to bring them to Europe – for example by André Malraux, the later Minister of Culture of France.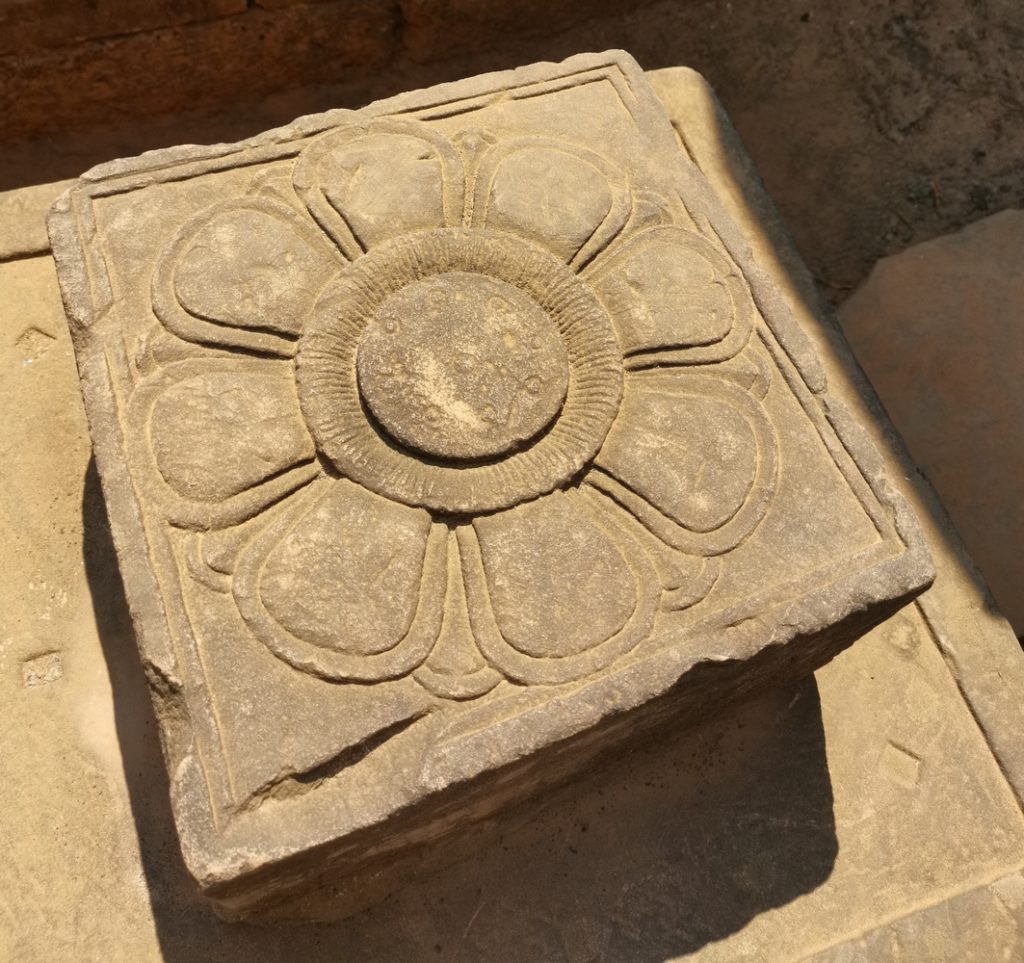 Khmer flower in Banteay Srey
Finally, from 1931 to 1936, Banteay Srei was repaired piece by piece in an elaborate project using the then novel method of anastylosis as one of the first temples in the Angkor area and is considered one of the great showcase projects of this restoration method, in which a dilapidated structure can be at least partially rebuilt by using the still preserved original building parts.

Since 2004, Banteay Srei has been restored with funding from Switzerland.