Krol Romeas – scattered remains of a temple
Krol Romeas – scattered remains of a temple
If you are a traveler exploring the region around Siem Reap, you should by no means make the mistake of skipping Krol Romeas. The temple complex, which is located directly at the north exit of Angkor Thom and exactly next to the Preah Khan temple, is an absolute insider tip and is actually only visited by a few tourists: All the more a great chance for all those who take the time to explore this magical place.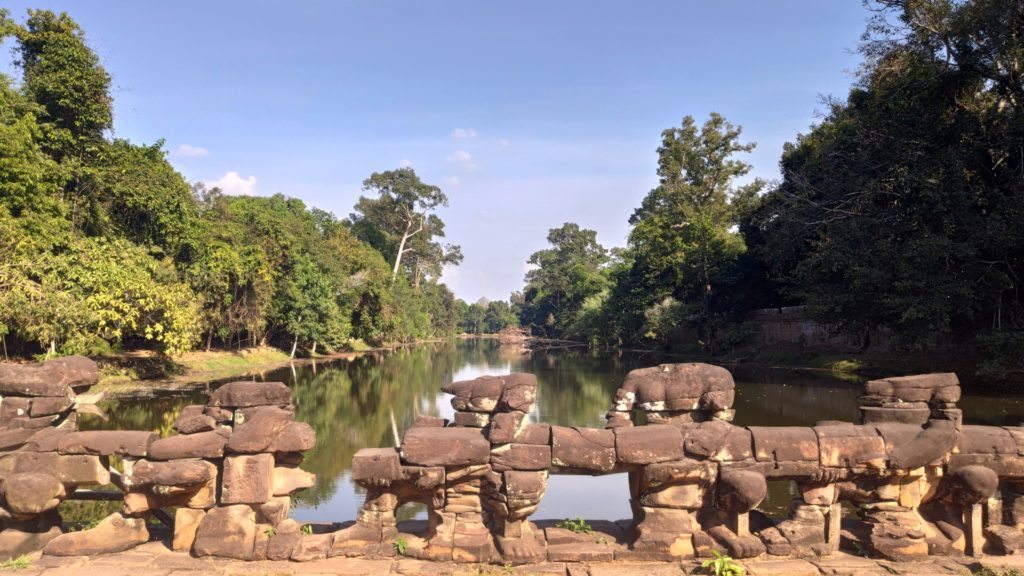 Bridge on the way to Preah Khan
What makes this site special is that there is hardly any background knowledge about the origin and historical value of this magnificent building. While it is very likely that the site was not a classical religious temple, but rather used as an elephant stable. However, archaeologists have not found the ultimately decisive evidence for this to date.
The complex of Krol Romeas is arranged in a circle and was built of stone, which is an absolute peculiarity. Buildings from the Khmer period were basically built of stone only if they were dedicated to the "divine". Thus, until today we have the dilemma that even the residential buildings of the most famous kings of the Khmer can no longer be reconstructed, since these – as a non-religious site, so to speak – were also built of wood. The question why this is different at Krol Romeas – which was obviously not dedicated to a deity or any religious purpose at all – unfortunately remains unanswered.
Thus, visitors have no choice but to enjoy this beautiful place for what it is: a magical, little frequented place that feels like a time travel into the everyday life of the Khmer. The only historical cornerstone we can name is the fact that the temple was probably- like most structures of the time- left behind around the 16th century, where it lasted from then until its rediscovery.
Due to the untouched nature, the few tourists can also catch a glimpse of the local flora and fauna: Especially butterflies like to nest in Krol Romeas and are a popular photo motif.
In conclusion, vacationers who want to explore the area around Angkor Thom anyway would do well to plan a side trip to Krol Romeas as well. The walk is not far and the experience itself is unique. Due to its manageable size, visitors don't have to plan much more than half an hour to visit the place – except, of course, for the possibility of wanting to spend more time here because Krol Romeas is simply beautiful. This is a risk that visitors will have to take, if nothing else